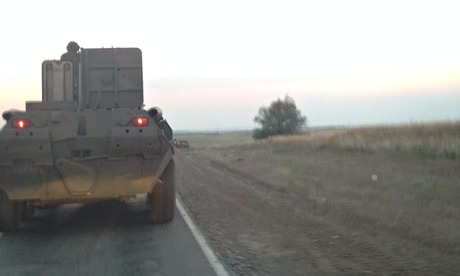 The white trucks of humanitarian aid rumbled through Russia in a convoy stretching for miles, moving slowly southwards on the M4 highway, amid a landscape of fertile fields and Ladas stopped at the roadside – their boots overflowing with watermelons for sale.

But, while the trucks came to a halt well short of Ukraine's border, a different Russian convoy did make the crossing into Ukrainian territory late on Thursday evening.
The Guardian saw a column of 23 armoured personnel carriers, supported by fuel trucks and other logistics vehicles with official Russian military plates, travelling towards the border near the Russian town of Donetsk – about 200km away from Donetsk, Ukraine.
After pausing by the side of the road until nightfall, the convoy crossed into Ukrainian territory, using a rough dirt track and clearly crossing through a gap in a barbed wire fence that demarcates the border. Armed men were visible in the gloom by the border fence as the column moved into Ukraine. Kiev has lost control of its side of the border in this area.