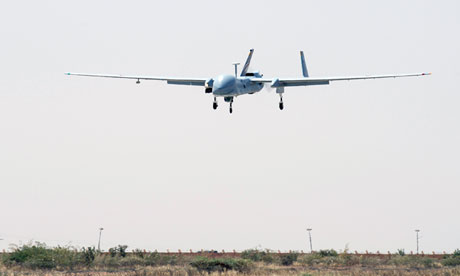 A leading UK university is ending its £1.2m investment in a defence company that makes components for lethal US drones because it says the business is not "socially responsible".

The University of Edinburgh has bowed to pressure from students and campaign groups and is withdrawing funding from Ultra Electronics. The company, headquartered at Greenford in Middlesex, makes navigation controls for the US fleet of Predator and Reaper unmanned aerial vehicles.
Armed with Hellfire missiles, they are sent on covert "targeted killing" missions against suspected terrorist cells in Pakistan, Yemen and Somalia. But according to the Bureau for Investigative Journalism at City University in London, more than 430 strikes since 2002 have killed at least 428 civilians, of whom 173 were children.

Human rights lawyers argue that the attacks breach international law because they take place in countries with which the US is not at war. The strikes were declared to be war crimes by the Pakistani high court in Peshawar in May, and are under investigation by the United Nations.