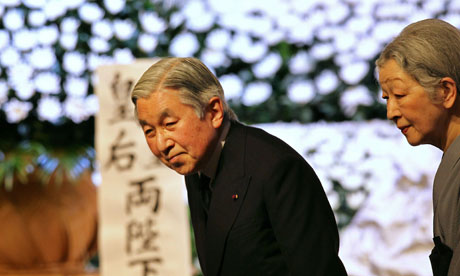 Exactly two years after its north-east coast was wrecked by a deadly tsunami, Japan marked the moment that the most powerful earthquake in its recorded history triggered deadly waves that killed almost 19,000 people, while the prime minister, Shinzo Abe, promised to speed up reconstruction of flattened communities.

In Tokyo and along the tsunami-battered coastline people gathered at memorial services to remember those who died after a magnitude earthquake struck offshore at 2:46pm on 11 March 2011.
Millions across the country stopped work or paused on the street to observe a moment's silence, while the emperor, Abe and relatives of the dead were among 1,200 who attended a ceremony at the capital's national theatre. "I pray that the peaceful lives of those affected can resume as soon as possible," Emperor Akihito said.

Rin Yamane, 18, who lost her mother in the tsunami, said: "Young people from the disaster-hit areas will act so that the disaster will not be a painful memory but a memory that leads to the future."