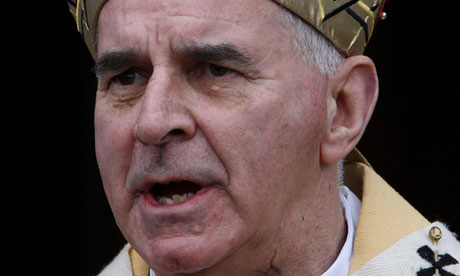 A key figure behind allegations of inappropriate behaviour by Cardinal Keith O'Brien has launched a powerful attack on the Catholic church's response to the complaints, saying he fears the church hierarchy would "crush" him if they could.

Last Sunday the Observer revealed that the former priest, along with three serving priests, had reported O'Brien's behaviour to the Vatican, prompting the UK's most senior Catholic to resign the following day. Now the former priest, who says he was the subject of unwanted attention by O'Brien when he was a 20-year-old seminarian, has come forward to explain why he made his allegations public and to lambast the Scottish church leadership's reaction to last week's story.
He is "disappointed" by the "lack of integrity" shown by the Catholic church. "There have been two sensations for me this week. One is feeling the hot breath of the media on the back of my neck and the other is sensing the cold disapproval of the church hierarchy for daring to break ranks. I feel like if they could crush me, they would," he told the Observer.
He added that he was shocked when Peter Kearney, director of communications for the church in Scotland, claimed O'Brien's resignation was not linked to the Observer story and that the church did not know the details of the allegations.