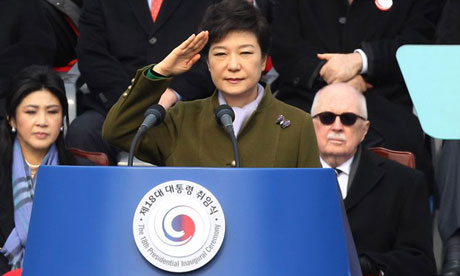 South Korea's new president, Park Geun-hye, has called on North Korea to abandon its nuclear weapons programme, as Pyongyang edges closer towards membership of the global club of nuclear states.

Park, who was sworn in on Monday as South Korea's first female president, said she would not tolerate provocations from the North, which conducted its third nuclear test this month.
"North Korea's recent nuclear test is a challenge to the survival and future of the Korean people," Park, who was elected on 19 December, told a crowd of 70,000 people outside the national assembly building in Seoul. "Make no mistake, the biggest victim will be none other than North Korea itself."

Park's biggest foreign policy challenge will be to end five years of worsening ties with the North under her predecessor and fellow conservative, Lee Myung-bak, and persuade the regime to return to nuclear negotiations.