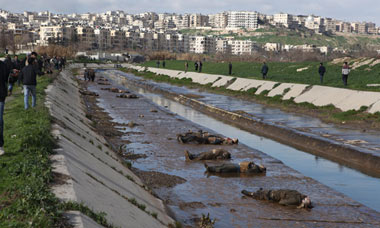 Rebel groups in Aleppo say they have recovered more than 100 bodies from a small river in the south of the city and say more are yet to be dragged from the water after what appears to be one of the biggest massacres to have taken place in the war-ravaged city.

A video posted online today showed rows of bodies, most of them men in their 20s and 30s, with their hands tied behind their backs and evident bullet wounds to their heads. The graphic footage showed blood seeping from the corpses across silt left on the watercourse's concrete bank by floodwaters that have recently receded.
One witness at the scene said he counted 108 bodies and rebel groups said they expected the final death toll to climb to as many as 120, though the Guardian was unable to independently verify the number of dead. The corpses were found on Tuesday morning in Bustan al-Qasr, in the southern city centre. The site is near one of several frontlines that divides opposition groups in the east and south of Aleppo from loyalist forces in the north.

Where the men were executed is not yet clear. Winter rain has given the river a strong current in recent weeks and initial assessments suggested that the bodies could have been carried some distance.