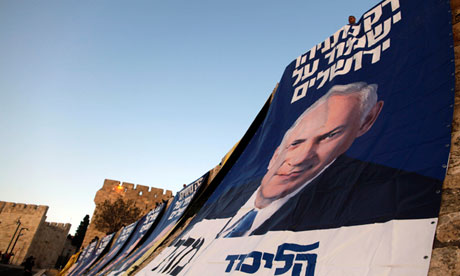 Binyamin Netanyahi has vowed to rebuff international demands to allow a Palestinian state with a border based on the pre-1967 Green Line and its capital in East Jerusalem, as hardline pro-settler parties and factions are expected to make unprecedented gains in Tuesday's election.

"When they say, 'Go back to the 67 lines,' I stand against. When they say, 'Don't build in Jerusalem,' I stand against," the Israeli prime minister told Channel 2 in a television interview.

"It's very easy to capitulate. I could go back to the impossible-to-defend 67 lines, and divide Jerusalem, and we would get Hamas 400 metres from my home." He would not allow that to happen under his leadership, he said.
Likud supporters on Sunday draped the walls of Jerusalem's Old City with huge banners proclaiming "Only Netanyahu will protect Jerusalem" and "Warning: 67 border ahead".

Netanyahu's electoral alliance, Likud-Beiteinu, is on course to emerge from the election as the biggest party in the 120-seat parliament, with 32-35 seats. Negotiations to form the next coalition government will begin immediately after final results are announced.