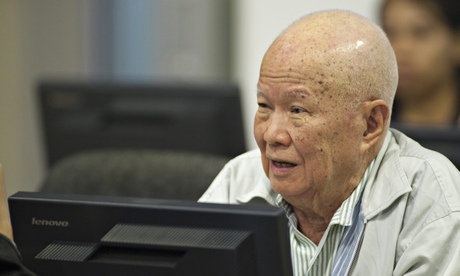 Cambodia's UN-backed Khmer Rouge court has begun a second trial of two former regime leaders on charges including genocide of Vietnamese people and ethnic Muslims, forced marriages and rape.

The complex case of the regime's two most senior surviving leaders has been split into a series of smaller trials, initially focusing on the forced evacuation of people into rural labour camps and related crimes against humanity.
The first trial against the most senior surviving Khmer Rouge leader, Nuon Chea, 88, known as Brother Number Two, and former head of state Khieu Samphan, 83, was completed late last year, with the verdict – and possible sentences – due to be delivered on 7 August.

At the opening hearing of the second trial on Wednesday, judge Nil Nonn read out the charges against both suspects as more than 300 people watched the proceedings from the court's public gallery.