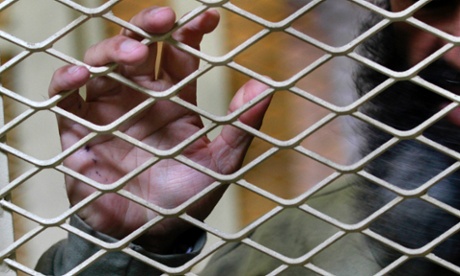 Sometimes they stopped eating to protest unclean drinking water. Other times they stopped eating because their comrades were placed in segregated housing. Still other times they stopped eating out of dissatisfaction with their access to the International Committee of the Red Cross (ICRC), their only source of connection to their families and the outside world.

Without any visibility beyond the walls of their prison, non-Afghan detainees that the US holds in almost complete secrecy in Afghanistan have engaged in hunger strikes, the Guardian has confirmed. The hunger strikes are reminiscent, on smaller scale, of those at Guantánamo Bay that seized the world's attention last year.
Confirmation of the strikes, from multiple sources as well as first-hand testimony of a former detainee, comes despite the US military refusing to disclose practically anything about the conditions of confinement for nearly 40 men held in a section of a prison, known as the Detention Facility in Parwan, on the outskirts of Bagram airfield.

While the US no longer detains Afghans at Bagram following a transfer of the prison, it continues to hold 38 non-Afghans there, most of them Pakistanis. Nearly 13 years after 9/11, they comprise the most secretive cohort of detainees still held by the US.