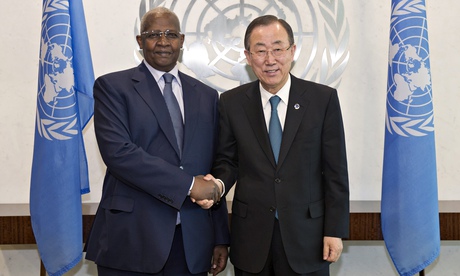 The United Nations is facing a chorus of criticism over the inauguration as president of its general assembly of Uganda's foreign minister, just four months after that country enforced a brutal and widely denounced anti-gay law.

Sam Kutesa will become ceremonial head of the world parliament on 11 June. There will be no ballots cast and he will be "elected by acclamation", as he is the only candidate for the 12-month post, having been chosen by t he African Union for the job that falls this year to Africa on a Buggins' turn basis.


But as the appointment nears, questions are being asked about his track record of alleged corruption, as well as his role as cabinet member of a government that has enacted one of the most virulent homophobic laws on the globe. Voices of disapproval have spread from Uganda to the general assembly's home in New York and to the US senate.

New York senator Kirsten Gillibrand said: "It would be disturbing to see the foreign minister of a country that passed an unjust, harsh and discriminatory law based on sexual orientation preside over the UN general assembly." In the UK the rights campaigner Peter Tatchell has called on the government to intervene. "David Cameron and William Hague should be lobbying the UN to block Kutesa's appointment on the grounds that his political record is inconsistent with UN principles," he said.
TVNL Comment:  This appointment should not elicit 'criticism.'  There should be outrage....and terrible anger.