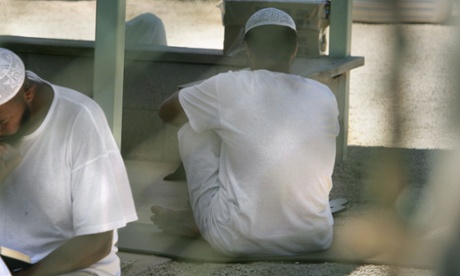 A man held at Guantánamo Bay who was previously deemed too dangerous to release has been re-evaluated by a US government panel, which is reviewing cases as part of an effort to close the prison, officials said Thursday.

The six-member board decided that Mahmud Mujahid, who has been held at Guantánamo since January 2002, no longer poses a "continuing significant threat" to the United States and is eligible for transfer out of the US base in Cuba, the Pentagon said in a statement.
Mujahid, who was accused of being an al-Qaida fighter and bodyguard for Osama bin Laden, although was never charged with a crime, was one of dozens of men designated as too dangerous to release. He could not be prosecuted, however, for reasons such as a lack of evidence or jurisdiction. President Barack Obama directed authorities to review their cases as part of a renewed effort to close the prison, where the US holds 155 men.

Mujahid, 33, was the first prisoner to go before the review board. He appeared with his lawyer and two personal representatives by video link from Cuba, with representatives of six government agencies in Washington.