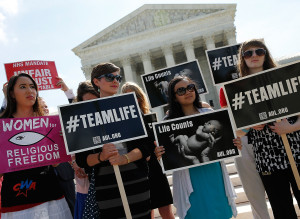 On the same day that Texas abortion clinics fought in court to remain open, anti-abortion activists held a training session at the state's capitol on how to keep the facilities closed.

The meeting, held on Aug. 4 in Austin, was conducted as a network of abortion providers challenged the Texas legislature's HB 2 law, passed last year, that requires abortion providers to have admitting privileges at local hospitals and for clinics to become ambulatory surgical centers.
More than half of Texas' abortion clinics have closed since the law went into effect. Only six or seven clinics for Texas' 13 million women will remain open as of Sept. 1 if a judge does not rule in the clinics' favor, forcing patients living in areas without a provider to travel hundreds of miles to access the procedure.

The training session, conducted by various anti-abortion rights groups, covered a variety of tactics aimed at dissuading patients from obtaining an abortion. Audio from the meeting was released this week by NARAL Pro-Choice Texas and Progress Texas, a progressive advocacy group.