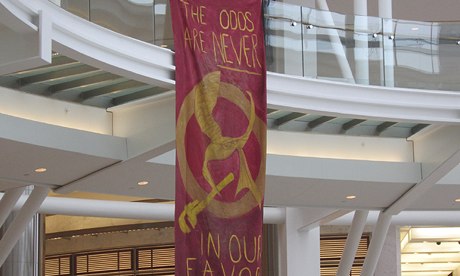 The terror charges facing two environmental protesters who unfurled a banner and dropped glitter at an oil and gas company's office in Oklahoma are "outrageous" and "egregious", according to the lawyer representing them.

The authorities have already collected about 100 reports, including witness statements, surveillance video and other evidence to support the charges of terrorism hoax against the two protesters, Oklahoma city police told the Guardian.
The charge, which carries a maximum penalty of 10 years, has yet to be confirmed by the Oklahoma city district attorney. If the charges do go ahead, it would be the first such use of Oklahoma's "terrorism hoax" statute in recent memory.

But the application of anti-terror statutes to a peaceful protest by barely a dozen activists has already caused outrage. Police concede there were no injuries in the protest.