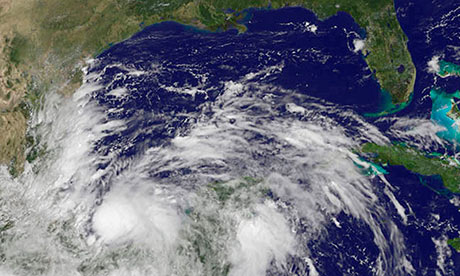 Ingrid became the second hurricane of the Atlantic storm season off Mexico on Saturday, prompting the evacuation of several thousand people while Tropical Storm Manuel threatened to cause flash floods and mudslides on the opposite side of the country.

On Saturday evening, Hurricane Ingrid was packing maximum sustained winds of 75 mph (120 kph). The storm was centered about 195 miles (315 km) east of Tuxpan, Mexico and moving north at 7 mph (11 km).
The US National Hurricane Center in Miami said that if Ingrid stays on the forecast track, it's likely to reach the coast of Mexico on Monday.

In Tamaulipas state to the north, where the Hurricane Center says Ingrid will probably make landfall, the government said in a statement that Independence Day festivities were cancelled in the cities of Tampico, Madero and Altamira. The Sept. 15 and 16 celebrations commemorate Mexico's battle of independence from Spain.