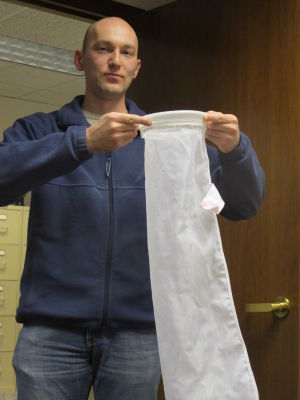 Rick Schrieber says radioactive waste from the oil patch does not belong in his landfill. And if a trucker tries to sneak it in, he's going to wish he hadn't.
Schrieber is the manager of the McKenzie County solid waste landfill near Watford City. He recently wrote $110,000 in fines to truckers who brought in fabric filter socks that are banned from landfills because they're potentially coated with radioactive waste.
The filters — about the size of a long butterfly net — are used to strain the toxic saltwater and hydraulic fracture water that comes from oil wells while it's being injected into deep disposal wells.
Not all saltwater is "hot," but radioactive particles will accumulate on the filters if they're used long enough, or in certain areas of the Bakken.
There are some 511 injection wells out in the oil patch and filters can be changed multiple times every day, meaning there are potentially thousands generated every week.
A serious problem of poorly managed radioactive waste is only going to get worse, said Steve Tillotson, assistant director of the state's solid waste management program.