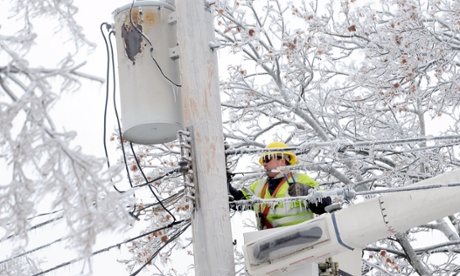 Repair crews worked around the clock to restore power to nearly half a million people who faced a cold and dark Christmas in parts of the central and north-eastern US and into eastern Canada after a weekend ice storm. At least 24 deaths have been linked to the storm.

It appears the bad weather isn't ready to take a break. The US National Weather Service said more snow is forecast to roll into the Great Lakes and midwest by Wednesday morning.
In Canada, five people were reported dead from apparent carbon monoxide poisoning. Police said two people in Ontario had died after using a gas generator to heat their blacked-out home north-east of Toronto.

Police in Quebec said carbon monoxide poisoning was believed to be the cause of three deaths in a chalet. Earlier, five people were killed in eastern Canada in highway crashes blamed on severe weather.