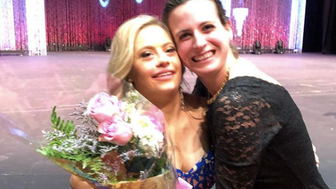 Mikayla Holmgren made history Sunday night at the Miss Minnesota USA pageant, where she became the first woman with Down syndrome to compete in a state Miss USA pageant.
The 22-year-old Bethel University student from Stillwater, Minnesota, also won two awards: the Spirit of Miss USA Award and the Director's Award.
Denise Wallace Heitkamp, the executive state director of Miss Minnesota USA, presented Holmgren with the Spirit Award and told the contestant that she makes people cheer and smile every time she speaks.
"You exude the spirit of Miss USA by always being true to yourself and putting others first," Heitkamp said, according to Pioneer Press. "You have selflessness, humility and the ability to overcome obstacles with a smile on your face and excitement in your heart."