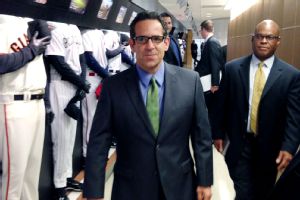 A year to the day that Major League Baseball handed down more than a dozen suspensions in the Biogenesis scandal, highlighted by that of embattled slugger Alex Rodriguez, federal Drug Enforcement Administration agents conducted an early Tuesday morning roundup that led to charges against the former clinic's founder, Anthony Bosch, and others tied to his operation.
Shortly after 6 a.m. ET, federal agents began driving up with the handcuffed suspects at the DEA regional office on the outskirts of Fort Lauderdale. Bosch and his attorney drove to the DEA office to surrender. Several of his associates with ties to the anti-aging/wellness business were picked up at their homes in the predawn hours and brought in for processing.
According to Special Agent in Charge Mark R. Trouville, Bosch was one of 10 people arrested Tuesday as part of a two-year Operation Strikeout investigation.
Federal sources said Bosch, 50, had reached a deal to plead guilty to conspiracy to distribute anabolic steroids. He was led in a DEA vehicle to the U.S. District Courthouse in Miami after being processed in Fort Lauderdale.

The U.S. Attorney's office in Miami scheduled a news conference for later Tuesday to detail the charges.

Among those arrested Tuesday was Yuri Sucart, the cousin of Alex Rodriguez.