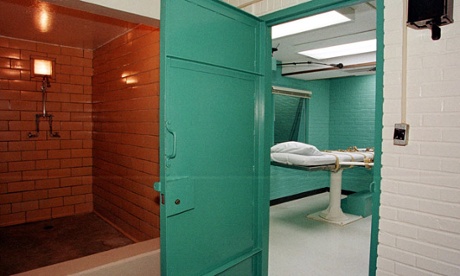 Texas' prison system doesn't have to reveal where it gets its execution drugs, the state's top lawyer said Thursday, marking a reversal on an issue being challenged in several death penalty states.

Attorney general Greg Abbott, the Republican nominee for governor in the nation's busiest death penalty state, had rejected three similar attempts by the Texas department of criminal justice to keep the drugs secret since 2010.

His decision is expected to be appealed to the courts, meaning it likely won't take immediate effect
The department argues that the pharmacy providing the drug should remain secret in order to protect it from threats of violence. Lawyers for death row inmates say they need its name to verify the drugs' potency and protect inmates from cruel and unusual punishment.

Similar legal fights are ongoing in other death penalty states, including Oklahoma and Missouri, but courts – including the US supreme court – have yet to halt an execution based on a state's refusal to reveal its drug supplier. The secrecy argument was used ahead of a botched execution last month in Oklahoma, though that inmate's faulty veins, not the execution drug, were cited as the likely cause.