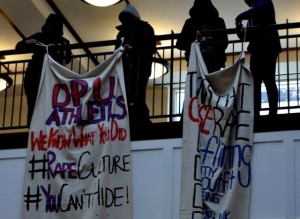 A group of anonymous DePaul University student activists is publicly accusing the Chicago school of engaging in a "cover-up" of a number of sexual assaults on its campus.

Members of the group, calling themselves DePaul Exposed, released a statement Thursday evening asserting that DePaul, the nation's largest Catholic university, has "demonstrated a level of selectivity when it comes to alerting students on these [sexual assault] incidents."
The group goes on to criticize the process DePaul students must go through in order to report a sexual assault. They also claim that members of the school's security staff have discouraged survivors from filing police reports on attacks.