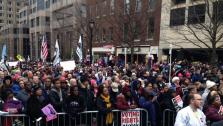 The "Moral Monday Movement" is back in a big way.  North Carolina NAACP President William Barber led a massive group Saturday morning through downtown Raleigh in the "Historic Thousands on Jones Street," now turned "Moral March on Raleigh."

It was part of their continuing fight against the Republican led legislature.

The march follows the 13 Moral Mondays seen in Raleigh over the summer, and then several more that followed throughout the state. Now it is back, fusing with the annual "HK on J" march.
The group, led by Rev. Barber, has been leading the state in protests against the legislature in opposition of things like cuts to education, unemployment and what they say is taking away women's rights.

Rev. Barber expected up to 25,000 people from the Triangle and bused in from all over the state. Yet, NC NAACP logistics expert estimates between 80,000 and 100,000 people attended Saturday's march. Last year the numbers were between 17,000 and 20,000.

"People are really struggling," said Ruth Lewis, who made it all the way from the Outer Banks just to be one more person in the crowd of thousands.

"The decision by the state to turn down the expansion of Medicaid was a tremendous disservice to the poor," said Patrick Conway, a protestor from Chapel Hill.