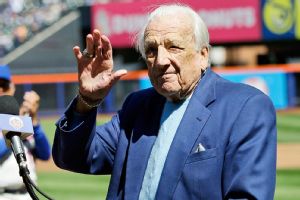 Ralph Kiner, who slugged his way into the baseball Hall of Fame and enjoyed a half-century career as a popular broadcaster, died Thursday. He was 91.

Kiner, who died with his family at his side at his home in Rancho Mirage, Calif., hit 369 home runs during his 10-year career, mostly with the Pittsburgh Pirates, who retired his No. 4 in 1987.
"Ralph Kiner was one of the greatest sluggers in National League history, leading the Senior Circuit in home runs in each of the first seven years of his Hall of Fame career," commissioner Bud Selig said in a statement. "His consistent power and patience in the heart of the Pirates lineup made him a member of our All-Century Team and, in many respects, a player ahead of his time.
"I am grateful that I recently had the opportunity to visit with Ralph, whose lifetime of service to Baseball will always be treasured by the fans of Pittsburgh, New York and beyond. On behalf of Major League Baseball, I extend my deepest condolences to his five children, his 12 grandchildren, his friends throughout our game and his admirers everywhere."