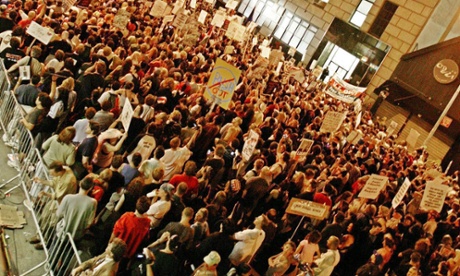 The city of New York has agreed to pay $18m to settle a civil rights claim from hundreds of protesters who were rounded up and detained in overcrowded and dirty conditions after they rallied outside the 2004 Republican National Convention.

The settlement, between city hall and almost 500 individuals, brings to an end a long-running sore between the overwhelmingly peaceful protesters and the New York police department (NYPD) that had been pursuing aggressive surveillance and detention tactics in the wake of the 9/11 terrorist attacks. More than 1,800 people, including teenagers and many uninvolved bystanders, were caught up in the massive police sweep outside the convention that was held to mark the nomination of George W Bush for a second presidential term.
The deal, announced by the law department of the city of New York on Wednesday, does not come down on either side of the argument. It admits no liability on the part of the NYPD, noting that for nine years City Hall and the police department "had vigorously defended all these lawsuits, maintaining that the conduct of the police had at all times been constitutional".

It nevertheless involves a payment of $10.4m to individual plaintiffs and to 1,200 members of a class action that alleged violation of their rights, and a further $7.6m in attorneys' fees, costs and expenses.