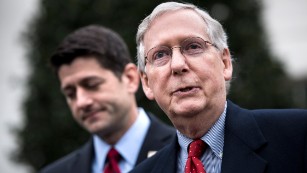 The House of Representatives gave final approval Wednesday afternoon to its major rewrite of the US tax code, voting a second time on the package after the Senate stripped out a couple of items early on Wednesday morning and sent the legislation back to the lower chamber.
The bill passed the House a second time 224-201, with no Democrats backing it and a dozen House GOP members voting no
The measure now heads to the President Donald Trump's desk for his signature. Republican lawmakers are scheduled to join Trump at the White House on Wednesday afternoon to celebrate their largest legislative achievement of 2017.
In a vote in the early Wednesday morning hours, the Senate approved the final version of the first overhaul of the US tax code in more than 30 years. The bill passed along party lines, 51-48, with the final result announced by Vice President Mike Pence, who presided over the vote. The House passed the bill earlier Tuesday, but technical changes were made to it in the Senate.