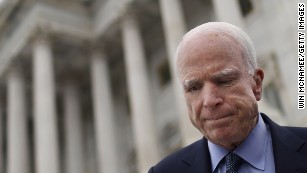 Sen. John McCain, 80, is recovering at his Arizona home following surgery on Friday to remove a blood clot above his left eye, according to his office. The clot was discovered during a routine physical last week, according to a statement.
Surgeons at Mayo Clinic Hospital in Phoenix "successfully removed the 5-cm blood clot during a minimally invasive craniotomy with an eyebrow incision," the statement said.
An eyebrow incision is not a big deal, explained CNN Chief Medical Correspondent and practicing neurosurgeon Dr. Sanjay Gupta, but the bone was opened to gain access to the brain, Gupta explained on CNN's New Day Monday.